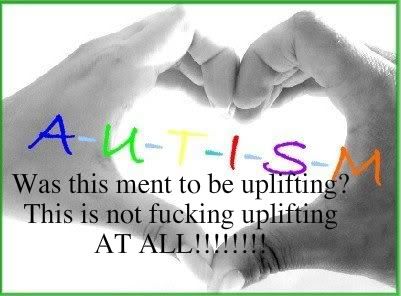 Its nine thirty on a Saturday morning and I hate everyone. Its the first day of my winter vacation from school. I should be sleeping or hanging out with friends. I should be exiting some sort of rave, possiply high, maybe covered in the Extasy vomit of an overzealous first timer. I should be climbing the side of an abandoned warehouse, ass naked except for pink bunny ears, rescuing America's favorite stonedbehindtheeyes bassist from a mad scientist. Fuck, I should be watching VH1 Divas with my dog. Anything. I know what I shouldn't be doing. I shouldn't be cleaning day old shit from the bathtub.
You probably think that I am a teenage mom. No, this is my brother's shit. His name is James and he has moderate to severe autism. You have no idea what that means, right? Um, so like....Have you ever babysat a two year old? James will act like he is two for pretty much the rest of his life. (He's ten.) He shows no signs of mellowing out. Screaming, jumping up and down, watching Seasame Street, smearing shit and food everywhere, doesn't eat anything but Burger King, ect.? Pretty much him, except he also takes the shoe laces out of my shoes to dunk in toilet water, he chews vigorously on whatever shirt he's wearing, and he chronically masterbates. (My mom named his dick Tim as in "Stop touching Tim, James!")
And these past few days, he's been freaking out, eating everything he comes into contact with, and smearing shit everywhere. Last night, he ran himself a bath and brought my copy of
Dial L for Loser
into the tub to jerk off to. Then he defecated (i.e. SHAT).
There is a ginormous shitstain I can't seem to get out. I've tried vinegar, Oxyclean Scrub-Free (psh, LIARS), toothpaste with bleach, a little bit of my favorite volumizing color shampoo, and half a bottle of Clean and Clear clenser (It broke me out). I need more traction. I get some steel wool. Its got some dried on pink shit. I have no idea what it is, it could be mashed up alien egg pods for all I fucking know. What I do know is the steel wool got the dried up shit off and that all these products are probably giving me lung cancer. I look in the mirror. My skin looks like crap and my blonde roots are coming in. I cry a little. I wash my hands six times. They feel scabby and dry but they do not feel clean. I cry a little bit more. I check on my stupid family. I go on the internet and skim through about a third of the
KKK's Vision for the Future
just for shits. It reminds me of the screenplay I've been meaning to write. I am anchored to the house all day and eventually write this.