I guess I could share with you what I found.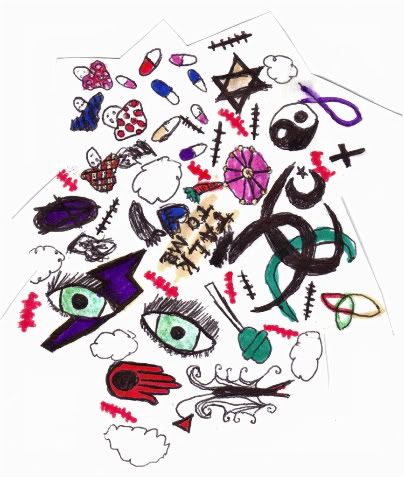 I drew this for someone....and I never gave it to them. I'm a dick.
Spin is publishing a lot of stuff that I like lately. The first 6 of
16 Rock Myths Debunked
is absolutly poetic. And they let you
read the entire issue for free online.
If you're concerned that I'm sucking the corporate cock of a magazine that is ginormo, and super popular,
here
is probably my favorite Zine ever, Babysue. Parts of it are a little too racisty to be considered sarcastic, but where else can you find
A Parents Guide to Satanic Ritual Cult Abuse
?
(WHEEEEE OOOOOOOH WHEEEEEEE OOOOOH BORING ANECDOTE AHEAD:I guess I should enjoy tangiable magazines while I can. The internet really isn't the same. I like the smell, I like the texture of the pages, I like when my sister draws mustaches and beards on the random chick on the cover, I like chopping it up and making it into a collage afterwards...its a sad thing to see go.)
I'm in love, you guys. And her name is Doe Deere. I stayed up all night reading the back 30 or so pages of her
blog
and drooling at her awesomeness. She makes
blue
and
orange
lipstick for a living and dresses adorably and adores neons and unicorns and funky shit, as do I, and is just all around great!
Okay, heres several pics of my new internet crush:
See, the universe is all DUDE, TAKE THAT OFF, YOU LOOK RIDICULOUS. WTF ARE YOU WEARING, PUT ON SOMETHING NORMAL AND LESS RIDONKULOUS but Doe is all, NO! KEEP IT ON, YOU LOOK AMAZING, DON'T BE AFRAID TO BE YOURSELF!
Have you guys seen
piano stairs
? WTF, the piano stairs are electric, right? So whats the point of getting more people to use the stairs if they BOTH WASTE ELECTRICITY? Does everyone within a five mile radius weigh 600 pounds? Sometimes cynicism needs to outweigh sparkles and sunshine, it pains me to say.
These
are
all
twitters
that
I
like
. Pissed that no one really witty is pretending to be Steve Albini (Big Black, produced Nirvana's Nevermind), Dameon Albarn (The Gorillaz, Blur) or Mike Patton (Faith No More, being a fucking badass). May as well link my
dull little pity of a twitter
, if you give a fuck. XD
I have a new God. Its the
toothpaste for dinner Random Livejournal Image Generator.
Its kind of like a Magic 8 Ball only way more magical. See, I mentally ask it a question, then I reload the page (set on only one image, but you can put more if you're adventurous) and the image answers the question I asked it. Its all seeing, all knowing, and tons of fun.
'Ere, lemme show you.
God, what kind of day will I have today?
I think that means God wants me to work out and also be extra holy. Okay, what should I wear on all of today's adventures?
Yay, thats the color of happy! God, will I maybe run into somebody kinda sorta special today? I'm sure you know who I mean, God!

I.......don't know what that means. God, what is the meaning of life?
Thank you, God! I think I understand!